Customer Reviews
Write a Review
Ask a Question
12/08/2020
Michelle L.

United States
Carmel-by-the-Sea book
I purchased this book because I am a fan of Aaron Chang's photography and was born and raised on the Monterey Peninsula and recently moved out of state. I wanted something to remind me of back home. Aaron did an excellent job at capturing all my favorite places in Carmel, Big Sur, and surrounding areas. He is able to capture the beauty in all aspects of the land, water, and animal life. There are descriptions and locations of each photo as well. This book was well put together. I absolutely love it and would recommend it to others.
02/08/2022
Stephanie G.

United States
Prints and books
Your pictures are amazingly beautiful and take me right to the beach
12/30/2020
Christina H.

United States
Love it!
This book is fantastic! Brings my favorite place on earth to life!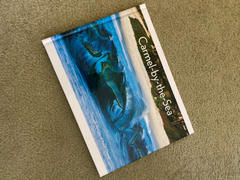 CARMEL-BY-THE-SEA:
Through the Lens of Aaron Chang, 2nd Edition of my Best Selling Gallery Book
The 2nd Edition of My New Book
By: Aaron Chang
I'm truly captivated by the beauty of Carmel Beach.
I'm drawn to the white sand, pristine waters and the way the fog dances in and out of my frame. I don't think I will ever tire of capturing the many moods of the ocean.
Last year, I opened a new gallery on Ocean Avenue in Carmel-by-the-Sea. Located on the Central Coast of California on the Monterrey Peninsula, a couple of hours south of San Francisco, Carmel is neighbors with Big Sur and truly a town of great beauty and charm. The sparkling energy of the water here is unlike anything I've ever seen. I love the abundance of wildlife and the beauty of the trees. They've been sculpted over time by the winds that come off the ocean, telling a silent story of strength and depth.
The cover of this book was captured on Carmel Beach. I've titled this photo, Pacific Green and it's available in my galleries as a limited edition release. I love the deep green foliage that comes all the way to the white sandy beach. You can see the color of the ocean here is unlike anything I have ever seen. It ranges from a deep emerald to turquoise on warm summer days.
This book contains web links to my behind-the-scenes stories about my photos around Carmel. The purpose is to give more in-depth inspiration about images that move you.
It's my hope that this book inspires you to appreciate the beauty, so abundant on this planet.
Next time you're in Carmel, come by and say hello.
CARMEL-BY-THE-SEA:
THROUGH THE LENS OF AARON CHANG
The Aaron Chang Ocean Art Gallery Experience
What people are saying on social media:
See What's Inside… A Sampling from the Coffee Table Book: